Impossible should be said when the case has been revealed. Maybe the position of the SBC makes it rather impossible or maybe something else. But it aint over until the fatt …starts to sing. The most "imposibility" is you create your own case with the ability of having the heatsink and fan being part of the design.
Our initial design for the case was put the fan inside, but after reading the suggestion from @willy in the debug party thread, we think that with a giant heatsink/case, it should be enough for daily usage. So we decide to go passive heat dispatching way.
Passive heat dissipation is so much better. Thank you.
Well this answers the question very good. That is indeed very awesome idea. If somebody wants to overclock it or if the case gets very heated one can always use an usb fan too cool it further down.
Again thanks for the good explanation that the case will be functioning as a giant heatsink. I was not aware of this change.
It is. Had today the opportunity to look into the thermals of another RK3588(S) device in a passively cooled metal enclosure that will be presented on the 20th this month. While idle temperature is a bit on the high side temp difference when running most demanding CPU benchmark is only 10°C.
Even without any cooling at all thermal throttling effects are minimal with RK3588 as such a nicely designed metal enclosure will be sufficient also with GPU/VPU busy in parallel to CPU cores.
BTW: when designing such a heatsink enclosure the best formula is low own thermal mass, huge heatsink fins and sufficient spacing in between (otherwise some active airflow would be needed for good heat dissipation and a high thermal mass results in the whole thing getting hot and feeding heat back into the board).
Excellent, thank you! Now that makes it quite tempting to order another one to replace my home server

I think of a badass thing like this,

which manages the 2x2 bifurcation.

a RADXA version it will be just huge on the ROCK5.
Bifurcation with those M2X thingies? Since two M.2 slots (one PCIe, the other carrying only USB2 signals)?
I mentioned accessories for the Khadas solutions, this one is a few years old,
just like a Khadas the size of the ROCK5 does not allow you to do everything.
A redesigned branching expansion card for the ROCK5 would be awesome,
don't make me have to ask Raxda or those partners to think of a bifurcation card,
that supports one M.2 B (PCIe x2) and one M.2 B + sim (PCIe x2 /USB 2.0 / USB 3.0 / I2C),
if in addition radxa adds a POE splitter dongle that breaks out in RJ45 + USB-C 12V,
it will be completely insane of them…
the SoC on the PCB dictates the options.
those Khadas accessories do not support bifurcation. Khadas SBCs usually lack any decent I/O since Amlogic based and those SoCs feature 1 PCIe Gen2 lane maximum and this multiplexed with USB3. You get either PCIe or USB3 there (only exception are Khadas Edge thingies since based on Rockchip).
you won't get SATA in the M.2 key M slot on Rock 5B since the 4 lanes routed here are PCIe Gen3 only (provided by a dedicated PCIe 3.0 controller in RK3588).
you have SATA already in the M.2 key E slot since this slot can be turned from PCIe Gen2 to SATA with a simple device-tree overlay and a mechanical adapter Radxa is going to sell for a few bucks.
all most of those WWAN modems are USB based anyway even if they come in mPCIe or M.2 format (as such you can attach these cards with a simple adapter board to an USB2 port if really needed).
just checked it on my dev sample: the 4 pin PoE header is there next to the GPIO header. So I guess Radxa's PoE+ HAT will fit (though with the SoC on the upper PCB side thermally challenging).
A mechanical adapter for the M.2 key M slot with bifurcation support might be possible but where should the bunch of other protocols the M.2 standard allows for should come from if the slot is only connected to RK3588's PCIe 3.0 controller?
My message was not very precise and left a lot of interpretation, only the pcie lines interest me.
But you think it is possible integrated JMB585 and FM350-GL on a purely PCie lines bifurcation to the RK3588?
And to be clear: the aforementioned Khadas accessory is a PCIe/USB2 splitter

The JMB585 is no problem since definitely PCIe only. But I've not seen such a modem that is 'PCIe only' but always requires a bunch of other protocols on the M.2 slot.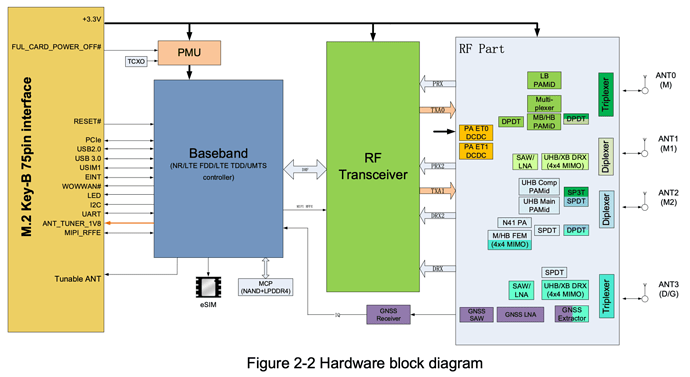 In fact, I hadn't read the doc…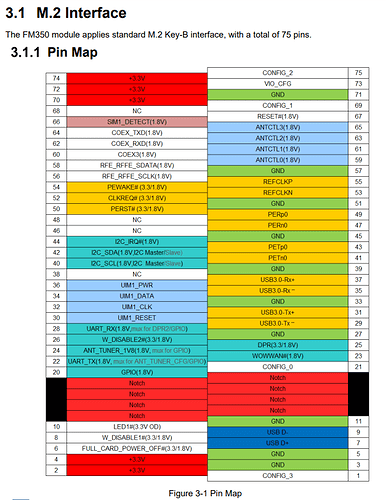 I realize that it is impossible for the ROCK5 to manage a WWAN module on M.2 only.
it would be necessary to connect the GPIOs and the USB3 of the ROCK5 on the M.2 of the extension card.
but a 2x2 bifurcation card with two M.2 B (PCIe x2) is it conceivable ?
I think naturally of two JMB585s.
I am curious about the added heat load of a poe board in a passive case. So you have plans for a poe board?
Can any Intel Ax200 series wifi module work?
Will the mechanical adapter of a few bucks (M2 key E -> SATA) be available at launch? I cannot find it anywhere in the allnet cn shop yet @jack
Also do yout know what wireless chip the "Radxa Wireless Module A8(WiFi 6/BT5.2 M.2 card)" will carry? I guess it will be different than the A6s module's AP6275s chip? @jack
Who knows? Me at least not.
Asides having been able to review a Rock 5B Rev 1.3 board I can only ask questions here and wait for Radxa to answer which sometimes happens and sometimes not. Sitting in the same boat…
Wi-fi module should be based on realtek RTL8852BU unless there was change of plans from radxa.
Fun times! Hoping to rebuild my mini NAS using the Rock5. Since there is only one PCIe3.0x4, my plan is to grab a PCIe x4 card which supports dual m.2 slots with x2*2 bifurcation and add a JMB585 sata card in one slot and an m.2 NVMe in the other. I was looking at a few options, but the number of separate components needed are a bit daunting (m.2 to PCIe riser, extension card, sata card). It would be great to have a daughter board which does this all-in one (5x SATA and 1x m.2 NVMe, obviously both can only use two lanes because of bifurcation, but it should be plenty for a small NAS).
Or maybe I'll just go the easy route and switch to a 2.5 SATA SSD and put the NVMe in another device…