[ROM] AndroidTV Pie Custom firmware v1.1 by mo123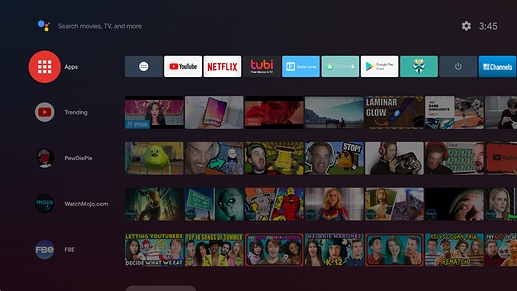 Changelog v1.1
Add RockPi 4 boot logo
Add Magisk root support
Please uninstall the Magisk app and reinstall it from here
http://bit.ly/magiskm (short link to Github Magisk Manager link to download it quickly)
It will say additional setup is required then you can restart your device.
Seems the Magisk Manager app has some problem being preinstalled from micro-sd card firmware.
Add 'More Settings' menu to TvSettings if you want to change extra settings like in the normal firmware
Change the onscreen keyboard to a mouse friendly one that is faster
Remove some preinstalled apps
Add working Netflix app and Kiwi Browser
Several stability and video playback patches from AOSP merged.
Changelog v1.0
Kodi
Latest Kodi 18.4 app: https://mirrors.kodi.tv/nightlies/android/arm/master/
---
Add various gamepads support
Xbox, Xbox One, Xbox Elite controllers
Sony DS3 and DS4 controllers
Switch joycon and pro controllers
Steam controller(also need to use the Steam app)
Shield controller
---
Fix Home button on airmouses, USB remotes
Long press to see All apps screen
Single press to return to Android Homescreen
Double press for Recent apps
– Long press OK/DPAD_Center to close selected app window.
– Long press back button to close all recent apps
---
Wifi
Add Wifi connect button on wifi password enter screen to be easily clicked with a mouse, airmouse to setup wifi without using the onscreen keyboard
General Wifi improvements
Fix ethernet stops/disconnects sometimes bug
Spoof ethernet as wifi connection
– This fixes some games like Asphalt that only work over wifi connections to also work if only using an ethernet connection
---
Fix Youtube VP9 videos freezing sometimes bug

Change frame-buffer to 1080p, 213DPI to help with 1080p Youtube support and less upscaling for video playback.

Set HDMI Bitstream as default audio device.

Add support for 192kbps FLAC audio support

Add Shutdown menu to TvSettings - About Screen

Fix SD-Card incorrect size reported sometimes

Fix Daydream settings not working on some languages

Improve overall speed of Android UI

Fix some apps running sideways to always run in landscape

Add some default Ad-blocker list to block some ads on websites

Add some extra apps.
Use MiXplorer File Manager(Samba v2 addon included) if wanting to access Samba v2.
Some other file managers only use Samba v1 which has less than half of the network performance of Samba v2.0. Kodi 18 also uses Samba v2 so you can use that to setup your network shares if playing high bit-rate videos over ethernet to get the best network speed.
How to set up Samba shares:

Speed difference between Samba v1 & v2.

Download link:
v1.1
https://mega.nz/#!dAEj2axB!YNhuaC3dIOH2qogmS8k7raP7GctMkPTiiopc1NwrW5w
v1.0
https://mega.nz/#!RdV3HICS!ibg27aRCuXAVnPQUdQtpzFxk3Yx_xZiBtbB4mmkIeGY
Password: radxa
Use 7zip to unzip and flash the image with etcher to a micro-sd card or EMMC.
https://www.7-zip.org/download.html

Use the Channels app after updating all the apps in the Play Store to set individual Youtube channels as Channels on your homescreen.
It makes the homescreen a lot better.
Enjoy