Hello
To my surprise I found out today that armbian build repo has rock3a configs as well as debian bullseye, so instead of rockpro64 I decided to give that a try and build such image. Moment later I had working minimal cli image and desktop version ready to burn into sd.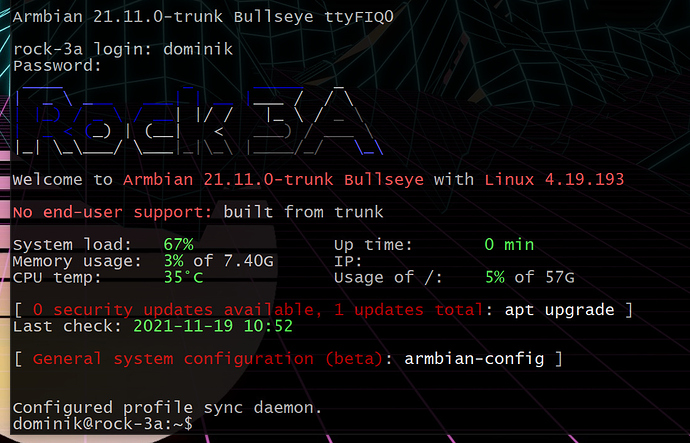 I launched them and they take some time to first boot, then run well. I tested ethernet, hdmi and hid devices via one of USB, all worked. Few errors in dmesg to resolve but other tests are promising. With additional kernel config this may be better for my needs than the one from wiki. Of course it still uses legacy kernel and it may be even the same - on build some radxa repos are cloned, and some patches applied, I did not yet checked all that in detail yet. I booted with 5.x kernel too, but that requires more work for sure.
While I encourage everyone to build that on your own I also uploaded those to gdrive here:
https://drive.google.com/drive/folders/1AhhObP1qlz4NkgGj_ctr9gZkOrZU8GOg?usp=sharing
Use at Your own risk.
Please note that it's UNOFFICIAL build and board is UNSUPPORTED by armbian devs and maintainers. Don't go to armbian forum or their github and don't ask for features or help with bugs. This is not welcomed, please respect their rules and consider supporting them on their hard work.