is the shipping date still october?
You are aware Amlogic paid Baylibre money when they started Amlogic porting?
" It was a match made in heaven: two years ago AmLogic and BayLibre joined forces to bring top-notch support for AmLogic SoCs into the mainline Linux kernel.
Since that time AmLogic has continued to become one of the most relevant and widely used silicon vendors in the world. Similarly, BayLibre has expanded the variety of SoCs, drivers and frameworks supported upstream all while supporting a growing number of OEMs basing their products off of recent kernel releases.
Along the way Baylibre has collaborated with a great community of product makers, kernel hackers and hobbyists to improve the AmLogic Meson SoC support in mainline Linux. We've added support for 64-bit SoCs, new drivers, and we've become maintainers for the AmLogic platform in Linux.
Our goal is straightforward: AmLogic system-on-chip processors should be so well-supported in the mainline Linux kernel that OEMs will go to market using the latest stable kernel release.
Last year at Embedded Linux Conference 2017 and this year at Linux Conf Australia, Neil Armstrong gave a well-received talk on our work. This post expands on Neil's presentation and provides an update on some of the changes we've been involved with recentl " source
Several stores on aliexpress have Rock pi 5B for sale!
Even a new TV box RK3588, Android 12 is now on sale, availability of RK3588 devices improve.
must be a big frustrated to agree to pay this price to intermediaries.

Sounds like the gates are open.
Just got a note from Aliexpress that a couple of vendors are selling Radxa branded 5B production boards now… tho for quite a bit more than retail ( $250 USD for the 16gb model. Ouch )
HI
October 1 in China start the Holiday. The holiday will last a week. Until 7 or more, everything will be closed. I understand that until October 1 you will not have enough time to ship the copies reserved for January 2022.
hi. the codes will be send again? thanks!
Hello Radxa I preordered on 11.01 and wonder when the board will be available on allnet. My feeling is that it should not be released until all accessories like psu, enclosure, wifi card, … can be found in store also. Can you give short feedback?
I got email from allnetchina.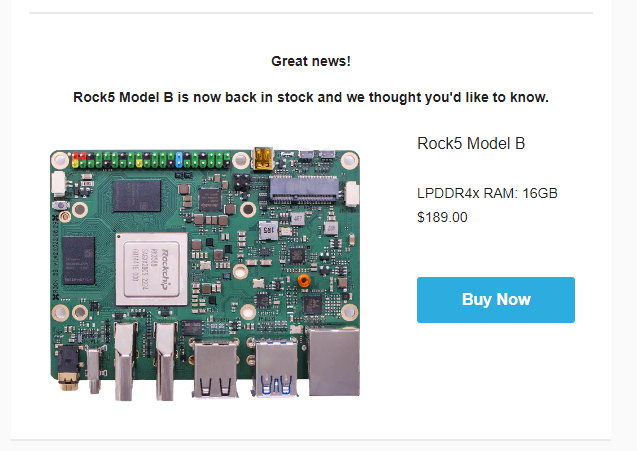 20 minutes later (when im read it) it's no in stock. So it doesn't matter who bought the codes in what order?
I got email from allnetchina.
Me too. I clicked the email link on my phone and it looked like the 16GB model was in stock! But I went to my PC and it was out of stock. When I went back to my phone and tried to add the item to my cart, I got an "out of stock" error. I also can't see how to get my preorder discount code. All I have is a $5 receipt from months ago, but no discount codes.
EDIT: Official reply (email) from AllNetChina:
Hi [my name],
We are preparing the rollout of the pre-orders right now.
There is work done on the store which might have caused this to happen…
Sorry
ALLNET China
it was ephemeral, just as you had time to validate the basket the product was out of stock.
I hope that these few available units have been acquired by users, who will have real use and not by resellers who will let their units sleep in drawers.
Bro, i was taking a midday nap. Just woke up, saw the email, tried to stay calm, went to the computer to gather all the products including the board…then saw sold out…
All confused about what just happened…came to the forum, saw other bro's also being left with …"blue ballss"…its so painful,
I also got the same email and the same out of stock error. It led me to worry to so I sent them an email saying:
I purchased the Rock5B discount redeem code back in early January. When will I get the email of my code to purchase my Rock5B?
They replied:
we are right now preparing the rollout of the pre-ordered boards.
If you ordered at that time you might be within the first ones to get the board.
Since they are not all ready yet, we can not confirm it yet. You will get a payment link from our store with the discounted price.
Thanks for joining the program, we are working long long days to get everything prepared and ready.
Now I am going to be hyper aware of any emails waiting to put that order in…
Thanks brother, very helpful information you shared. Finally some clarity about how we are going to apply the discount we purchased months ago.
I placed my preorder around late-Jan, have not received any emails regarding payment as of now.
How long do I have to make payment after receiving the mail to do so?
i think it will start shipping mid october
Can rockpi boot OS from m.2?
My preorder date is even earlier than yours. No email received since then.
yes as far as i know at the release if its a nvme ahci and sata doesnt work