I guess there will be a release when at least HDMI works
Could you tell us a bit of the current status of the UEFI work please?
I would be curious to try it but the instructions that I have found so far only tells me how to build it (which I successfully seem to have done) but I haven't seen any info on how to flash it into my ROCK 5B board.
That might be because it's not stable enough yet, in which case I'm happy to wait a while, but if there's a hope of getting it to work for someone outside the UEFI development team, it would be interesting to try it with for example a aarch64 Linux UEFI build of some sort.
Windows 11 works well with a clock at 800 Mhz, I did an update and a backup.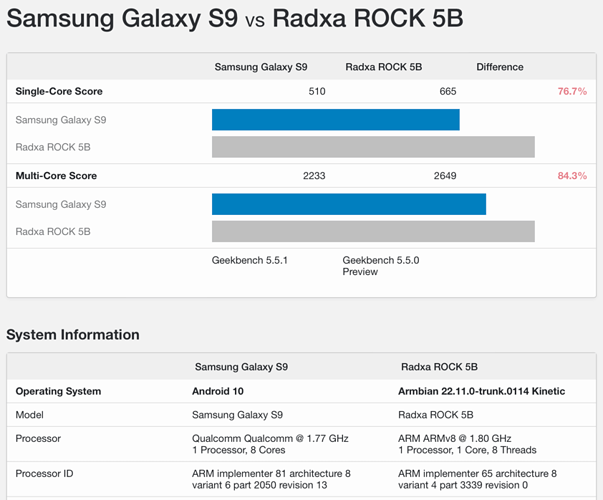 https://browser.geekbench.com/v5/cpu/compare/20998002?baseline=20337000
Same SoCs but running with their 'native' OS and not Windows/UEFI with reduced clockspeeds.
SDM845 is 5 years old now, an octa-core consisting of each four A75/A55 though the A75 are said to be clocked up to 2.8 GHz. As such the SoC should be able to slightly outperform RK3588 and if it doesn't then either the real clockspeeds are lower and/or the memory controller on the Qualcomm SoC sucks.
I have the Gigalan network and I updated Windows, but I have problems at startup with virtual memory management, it does not retain the settings.
Release v0.7
Note
CPU clocks have been lowered to boot default (1200 MHz) due to possible overheating on most platforms.
If you have adequate cooling (active recommended), you can set the clocks back to maximum by spamming ESC while UEFI is loading, then go to Device Manager -> Rockchip Platform Configuration -> CPU Performance and set all Cluster Presets to Maximum.
What's Changed
Features
Support maximum CPU clocks and voltages
Add config options for CPU Performance (including overclock by voltage) and Combo PHY (for M.2 slots, PCIe, SATA, etc.)
Support eMMC boot
Support persistent UEFI (config) variables on SD and eMMC
Support SATA boot
Fixes
Fix random boot stall on OhciDxe
Full Changelog: https://github.com/edk2-porting/edk2-rk35xx/compare/v0.6...v0.7