Hi Radxa / @jack,
For previous Rock SBC:s you made a stackable board for attaching one M.2 22x80mm: https://wiki.radxa.com/Rockpi4/hardware/M2_extend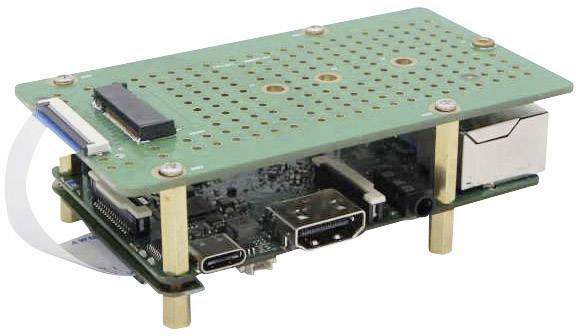 Your new Rock5B is a quite powerful computer and it can be relevant to add more high speed peripherals to it.
A stacked board would have the PicoITX form factor of 100 x 72mm. This is space for total FOUR M.2 22x80mm slots if you make it two on each side. (Three M.2 22x80mm slots could be fit on one side too…)
The kind of hardware I want to put in the M.2 slot is SSD:s. Also 10gbe ethernet: EGPL-T101 https://www.tomshardware.com/news/innodisk-m2-2280-10gbe-adapter https://www.innodisk.com/en/newsDetail/innodisk-releases-the-worlds-first-10gbe-lan-module-in-m2-form-factor .
The stacking could be done both down or up from the SBC. If up, there needs to be space for the Rock5B's fan - if below the space could be allowed to be very tight.
Here I have two requests for you, one simpler and one more advanced:
Firstly, can you make a stackable extension board with 2x M.2 22x80MM total on it, that is based on bifurcation: each M.2 slot gets two PCIe v3 lanes.
The total dedicated bandwidth for each of the two M.2's will be 16gbit = 2GB/second which is plenty. This way one Rock5B can have 10gb ethernet and one M.2.
Please let me know if you plan to make this board this year, I would like to buy it.
Here all the four M.2:s share 32gbps = 4GB/sec bandwidth. Supposedly the bandwidth sharing will work out smoothly.
In the PicoITX form factor this will be the most powerful computer on the market.