Have you ever wanted a fully accelerated KODI including VDR (Video Disk Recorder), ambilight, complete UBUNTU and openGL-accelerated X11 on your little Radxa Zero or Zero 2? My github https://github.com/beta68/cevdrx11 describes, how this can be set up.
The idea is quite simple: first, a complete CoreElec system is installed. Afterwards, a complete UBUNTU system is installed within a chroot environment. Remote control allows switching between KODI and VDR and even allows starting X-windows system using lxde windows manager.
The screenshot below should give a first impression for X11 and lxde. CoreElec screenshots can be found their website (as a new user I only can post 2 links), VDR screenshots at German tvdr website. There is also a German forum available. Your might need a translator. Please see https://www.vdr-portal.de/forum/index.php?thread/135070-howto-installation-eines-vdr-innerhalb-von-coreelec-amlogic-only/ for more information. My ambilight (APA102) is controlled by a little Arduino Nano. Kernel grabbing is working perfectly as well.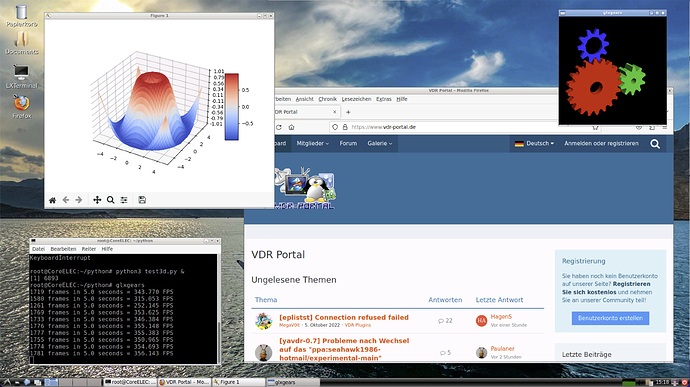 I tested python (Matplotlib and Jupyter-lab are working), glxgears (350 fps) and firefox with Youtube videos. Additional UBUNTU packages can be installed using apt. While KODI is able to play almost every audio format (stereo, DD, DD+, multi channel…), my lxde installation uses pulseaudio to control the audio output.
Network settings must be done in CoreElec and will also work in chroot environment. WIFI is working perfectly (also on 1.51 model). The system is very stable (I haven't had a single crash or hang-up since weeks). For my system I am using a FLIRC receiver. My TV recordings go to an 256 MB SD-card. The complete system will fit on a 16 GB eMMC.
To my opinion there are only two drawbacks. The kernel version is fix at 4.9 (no mainline) and the complete system is running at root. However, in return you will get a fully accelerated media center playing almost all video formats and a complete UBUNTU 20.04 system including X11 and lxde desktop manager.
My repository also includes a CoreElec version (update .tar file) 19.3 to which I backported the ambilight kernel patches. This was the last version supporting HDR to SDR video conversion (my 4K TV cannot display HDR content). This version can only be used for Radxa Zero. Radxa Zero 2 requires at least a CoreElec version 19.5. All my scripts are for a 4K TV. However, they can be easily changed for a full-HD (1080p) TV.
Have fun,
beta